Announcements
PEER REVIEWERS NEEDED
IC2 is currently recruiting peer reviewers to conduct a review of the Washington State Department of Ecology's (Ecology's) second alternatives assessment on per- and poly-fluoroalkyl substances (PFAS) in food packaging. Click here for details of the peer review process (most of the review time and meetings will be in September). If you are interested in serving as a peer reviewer, please email Melissa Lavoie as possible, or by Friday, August 20.


---
VIRTUAL CONFERENCE

September 21-23, 2021

This three-day virtual conference offers the latest information and advice on chemicals management and restrictions in electronics, presented by representatives from government organisations, trade associations, industry, service providers and NGOs.


---
EVENT
3-COURSE ONLINE PROGRAM
Green Chemistry & Chemical Stewardship Online Certification Program
September 27, 2021 - June 3, 2022
This certification program is endorsed by the Association for the Advancement of Alternatives Assessment.


Visit for more information and/or to register.
---

VIRTUAL CONFERENCE
Safer Chemicals Conference 2021
October 6, 2021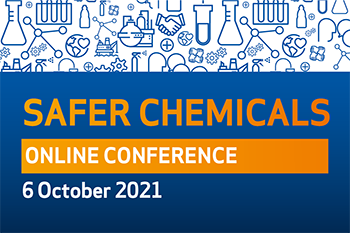 Europe is leading the way towards a more sustainable and toxic-free environment.
How are ECHA and its partners supporting companies on the path to sustainability?
What are the regulatory expectations in the evolving landscape and how can we help you meet them?
Stay ahead and join our free online conference for the latest insights and updates. Meet us at interactive sessions, network with peers and visit our virtual exhibition for best practice and advice.
Registration is now open. The platform will fit up to 2,500 participants.