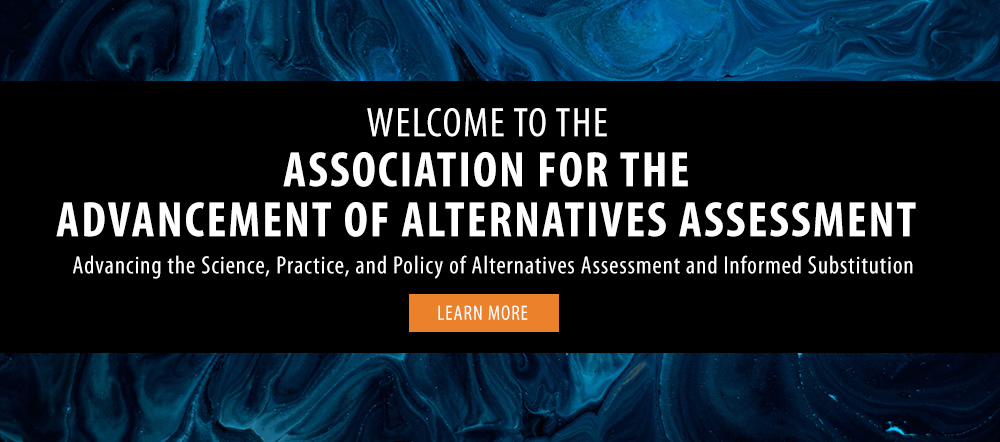 The Association for the Advancement of Alternatives Assessment (A4) is a professional association solely dedicated to advancing the science, practice, and policy of alternatives assessment and informed substitution. A4 is an interdisciplinary community of researchers and practitioners from government agencies, academia, industry, and non-profits working collaboratively to accelerate the transition to the use of safer chemicals, materials, processes, and products.
REGISTRATION IS OPEN
2023 International Symposium on Alternatives Assessment:
Enhancing Safety, Health and Equity
October 24-26, 2023 | University of Washington, Tacoma, WA

The Association for the Advancement of Alternatives Assessment (A4) will hold it's 2023 International Symposium on Alternatives Assessment on October 24-26, 2023 in Tacoma, Washington at the University of Washington | Tacoma. Symposium sessions will support continued learning about advances in the field across all facets of the assessment process with a special focus on advancing equity considerations to protect against unintended and unjust consequences in the outcomes of an alternatives assessment.

Short Course on the Social Hotspot Database Project just announced!

REGISTER TODAY

---
REGISTRATION IS OPEN
Mixtures & Safer Alternatives Workshop
WORKSHOP 2 (VIRTUAL EVENT)
FRIDAY, OCTOBER 6, 2023 | 11:00 AM – 1:00 PM ET

Understanding how mixtures are being evaluated in other aligned fields that are transferable to the evaluation and substitution decision context of product-level alternatives assessments.

WORKSHOP 3 (IN-PERSON EVENT AT THE INTERNATIONAL SYMPOSIUM ON ALTERNATIVES ASSESSMENT)
WEDNESDAY, OCTOBER 25, 2023 | 1:30 – 3:00 PM PT

Identifying needs and opportunities to evolve the practice of product-level alternative.
---
A4 Perspective Paper

Using Alternatives Assessment to Support Informed Substitution of PFAS in the Electronics Industry

In this A4 Perspective Paper, we cover:

Where PFAS are likely to be used within the electronics value chain

The sector's unique challenges associated with substituting PFAS

How the industry can avoid regrettable substitutes

How alternatives assessment can be used to make transparent and informed decisions to support the adoption of safer, sustainable chemicals.
---
QUARTERLY WEBINAR
Accounting for Mobility in Alternatives Assessments Insights from the ZeroPM Project


June 8, 2023

In this A4 webinar, you will hear from the ZeroPM project and its work to advance the accounting of substance mobility attributes in alternatives assessment processes. Presenters will provide an overview of the ZeroPM project; the persistent, mobile and toxic (PMT) and very persistent, very mobile (vPvM) hazard criteria that have been recently adopted by the European Commission as part of the revision to the Classification Labeling and Packaging (CLP) regulation; the utility of essential use and substance grouping concepts as it relates to PM substances and considerations for alternatives assessments, using chemicals used as flame retardants and cosmetics as a case study; and looking forward the use of "big data" approaches to identify functional alternatives for prioritized PM substances.
---
QUARTERLY MEMBER SPOTLIGHT
Scott Echols from the ZDHC Foundation
Senior Director, Roadmap to Zero Programme at the ZDHC Foundation

"I enjoy the connection to colleagues who I can learn from in a field where I know "just enough to be dangerous ;-) ."
---
MEMBERSHIP
Join the A4 Community
Our members enjoy the following benefits:

Discounts to A4 events
Exclusive member content including member directory
More access to our community of practitioners