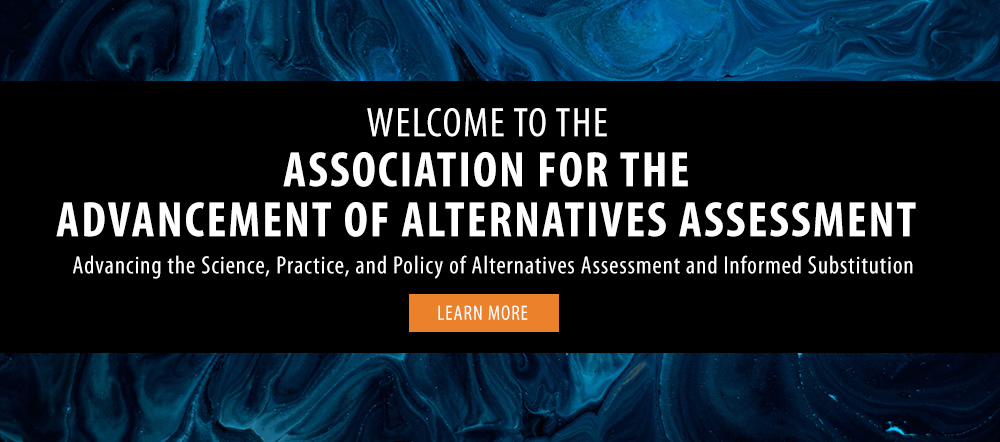 The Association for the Advancement of Alternatives Assessment (A4) is a professional association solely dedicated to advancing the science, practice, and policy of alternatives assessment and informed substitution. A4 is an interdisciplinary community of researchers and practitioners from government agencies, academia, industry, and non-profits working collaboratively to accelerate the transition to the use of safer chemicals, materials, processes, and products.
CALL FOR ABSTRACTS
2023 International Symposium on Alternatives Assessment:
Enhancing Safety, Health and Equity
October 25-26, 2023 | University of Washington, Tacoma, WA

The Association for the Advancement of Alternatives Assessment (A4) is seeking abstracts for its 2023 International Symposium on Alternatives Assessment, which will be held on October 25-26, 2023 in Tacoma, Washington at the University of Washington. Symposium sessions will support continued learning about advances in the field across all facets of the assessment process with a special focus on advancing equity considerations to protect against unintended and unjust consequences in the outcomes of an alternatives assessment.

Deadline for submission: Thursday, June 1, 2023 (11:59 PM EST)
QUARTERLY WEBINAR
Accounting for Mobility in Alternatives Assessments Insights from the ZeroPM Project


June 8, 2023 at 11:00 AM ET

In this A4 webinar, you will hear from the ZeroPM project and its work to advance the accounting of substance mobility attributes in alternatives assessment processes. Presenters will provide an overview of the ZeroPM project; the persistent, mobile and toxic (PMT) and very persistent, very mobile (vPvM) hazard criteria that have been recently adopted by the European Commission as part of the revision to the Classification Labeling and Packaging (CLP) regulation; the utility of essential use and substance grouping concepts as it relates to PM substances and considerations for alternatives assessments, using chemicals used as flame retardants and cosmetics as a case study; and looking forward the use of "big data" approaches to identify functional alternatives for prioritized PM substances.
---
QUARTERLY MEMBER SPOTLIGHT
Sandra Meijer from the Yordas Group
Director of Product Stewardship
at Yordas Group

"I have only recently joined the A4, and have found the organization to be tremendously welcoming. I really look forward to making a positive contribution as part of the Membership Committee, and would love to exchange views with A4 members on how alternatives assessment and the work of the A4 can contribute to the debate about SSbD which is currently high on the agenda in the EU."
---
FALL 2022 ELECTION RESULTS

Please welcome our new A4 Officers and Executive Council Members
Starting January 1, 2023 the A4 will welcome a new set of officers including Dr. Lauren Heine as our new A4 President.

We also are welcoming new VP and Secretary-Treasurer and six new Executive Council Members!

Thank you to all of our members for making our first election cycle a success and further establishing A4 as diverse and democratic society.

Click the link below to see the line-up of our new A4 leadership!
---

MEMBERSHIP
Join the A4 Community
Our members enjoy the following benefits:

Discounts to A4 events
Exclusive member content including member directory
More access to our community of practitioners