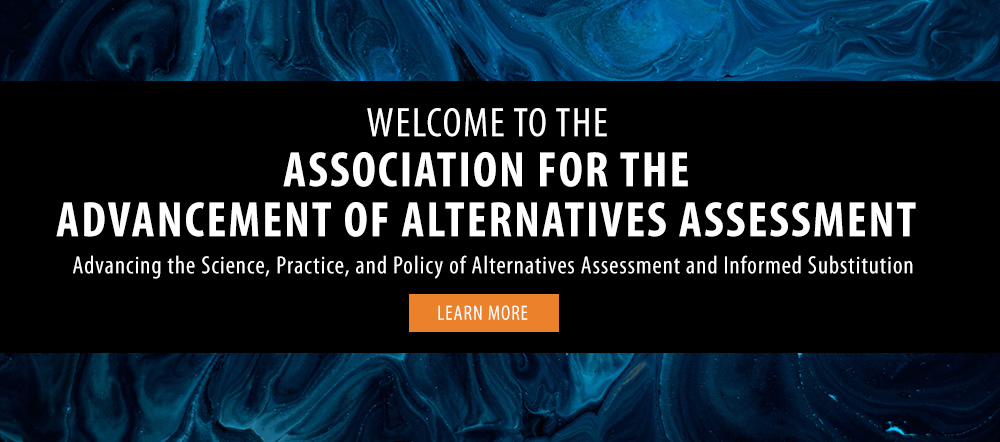 The Association for the Advancement of Alternatives Assessment (A4) is a professional association solely dedicated to advancing the science, practice, and policy of alternatives assessment and informed substitution. A4 is an interdisciplinary community of researchers and practitioners from government agencies, academia, industry, and non-profits working collaboratively to accelerate the transition to the use of safer chemicals, materials, processes, and products.

CALL FOR ABSTRACTS
A4 @ SETAC North America! CALL FOR ABSTRACTS!

Join A4 at the Society of Environmental Toxicology and Chemistry's (SETAC) North America Conference in
November 2022 and share your work on alternatives assessment with the broader SETAC community.
Abstract submissions are now open and due June 2, 2022


---
QUARTERLY A4 WEBINAR
Green Chemistry Market Research:
Promising Signals for the Availability of Safe and Sustainable Alternatives

March 1, 2022
| | |
| --- | --- |
| | This webinar is jointly hosted by the Association for the Advancement of Alternatives Assessment (A4) and the Green Chemistry & Commerce Council (GC3) -- learn about new important research which provides compelling evidence of significant growth in green and sustainable chemicals and related product markets. We also discuss its implications for investor and business communities as well as policy initiatives in the US, EU and beyond. |
---
EVENT
A4 International Symposium on Alternatives Assessment:
Accelerating Safer and Sustainable Alternatives
October 25-29, 2021 | Virtual Event
| | |
| --- | --- |
| | Registration is now closed. Thank you to everyone who participated! The Association for the Advancement of Alternatives Assessment (A4) hosted its International Symposium on Alternatives Assessment virtually on October 25-29, 2021. This year's Symposium theme was "Accelerating Safer and Sustainable Alternatives", which strived to highlight the increased attention on the innovation, identification, and adoption of safer and sustainable alternatives to replace toxic chemicals of concern. |
| | |
---
MEMBERSHIP
Join the A4 Community

| | |
| --- | --- |
| | The Association for the Advancement of Alternatives Assessment (A4) is the only professional association solely dedicated to advancing the science, practice, and policy of alternatives assessment and informed substitution. A4 is an interdisciplinary community of researchers, practitioners, and others working collaboratively to accelerate the transition to the use of safer chemicals, materials, processes, and products. Become a member today! |