Past Events
Jan. | Feb. | Mar. | Apr. | May | June| July| Aug. | Sept.| Oct. | Nov. | Dec.
May
2019
May 26th - 30th, 2019 | Helsinki, Finland

SETAC Helsinki is a 5-day event featuring a variety of training, networking and learning opportunities. You cannot miss this event if you are interested in emerging research, regulatory developments and the latest methodologies in environmental toxicology and chemistry. Between 2,000 and 2,500 scientists, assessors, regulators and managers from academia, business and government, representing an average of 60 countries, provides a unique networking opportunity and a chance for cross-collaboration long after the closing session.
May 14th - 15th, 2019 | Gaithersburg, Maryland

Companies submitting information to EPA under TSCA are learning how to incorporate New Approach Methodologies (NAMs). This knowledge is becoming valuable for FIFRA and other international regulations. Come familiarize yourself with how to incorporate these useful methods into your testing strategies, consulting, and safety assessments. PCRM and Institute For In Vitro Sciences (IIVS) have partnered with regulators, industry personnel, and toxicology experts to host another FREE training that you won't want to miss.
Program highlights:
Expert presentations and demonstrations outlining currently available in vitro methods for skin sensitization, eye irritation, and more
Hands-on demonstrations with the latest QSAR, cheminformatics, and other computational tools
EPA's implementation of the strategic plan for NAMs and the New Chemical Program
How to incorporate exposure assessment and green chemistry using NAMs
Contract organizations and consultants for NAMs
Visit for more event information
May 14th - 15th, 2019 | Johns Hopkins University, Rockville, Maryland
Join us for the 33rd annual Genotoxicity Workshop on May 14 & 15 and enjoy a two-day agenda filled with detailed presentations and in-depth discussions. Hear from industry experts, as well as fellow participants from regulatory agencies. Admission is free. This workshop is ideal for people new to genetic toxicology, and experts wanting to learn the latest advancements.
View the full agenda and register today!
May 7th - 9th, 2019 | Cincinnati, Ohio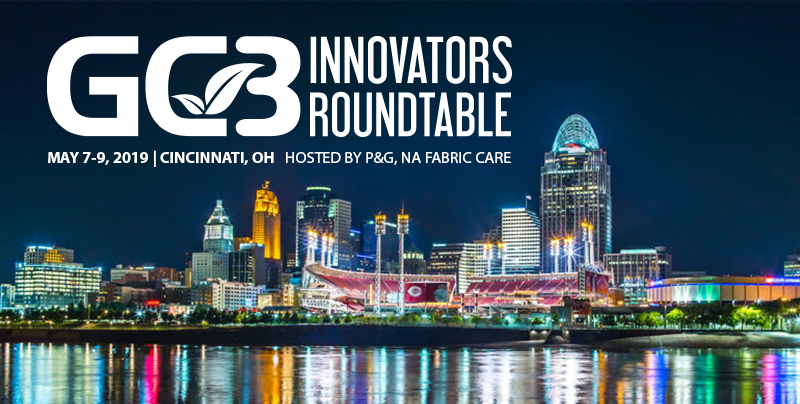 The GC3 Innovators Roundtable is a dynamic forum for business leaders to exchange strategies and best practices on how to accelerate green chemistry innovation and adoption, and to network to form new partnerships and collaborative projects. The Roundtable presents a unique opportunity for businesses to connect across supply chains and sectors.
GC3 members and non-members are welcome to attend.

To see the conference proceedings and agenda from the 2018 Roundtable, click here.
May 5th - 8th, 2019 | Dresden, Germany

This high-level conference will address a range of broad topics highlighting the role of chemistry in contributing to achieving the Sustainable Development Goals, including in developing countries.
As with previous events in the series, the conference will provide a unique opportunity for researchers running start-up companies, or considering starting a company based on their scientific research, to gain valuable advice and insight.
June
2019

June 11th - 13th, 2019 | Reston, Virginia

The Green Chemistry & Engineering (GC&E) Conference, hosted by the American Chemical Society's Green Chemistry Institute, has been a meeting ground for advancing sustainable science and solutions since 1997.
The International Conference on Green and Sustainable Chemistry (GSC) brings the global green chemistry community together every other year to share research and education initiatives. The last GSC was held in Melbourne, Australia in 2017.
The ACS Green Chemistry Institute is pleased to bring these two events together for three days of oral and poster sessions, keynotes, social events, and workshops in the Washington DC metro region. Join us at this unique event!
July
2019
Tuesday, July 23 | 9 AM PT, 11 AM CT, 12 PM ET, 5 PM BST

For a discussion on the potential elimination of plastics in electronic products, join Chemical Watch for their free webinar,
The end of plastics in electronics?
Presented by Michael Kirschner (Design Chain Associates) and Lauren Heine (MaterialWise), this webinar will address the regulations, long-term implications, and what you – and the electronics industry – can and should be doing about this potential outcome.


Visit for more information and/or to register.
September
September 5-6, 2019 | Spokane, Washington

This course will guide participants through OSHA's substitution planning process for understanding and evaluating chemical use, identifying and assessing alternatives, and implementing those alternatives that are safer. OSHA 7225 is for professionals at all levels of chemistry understanding who play a role in product and materials selection.
Visit for more information and/or to register.


Deadline to Register for Course I: September 14 - Course Occurs: September 23 to December 6, 2019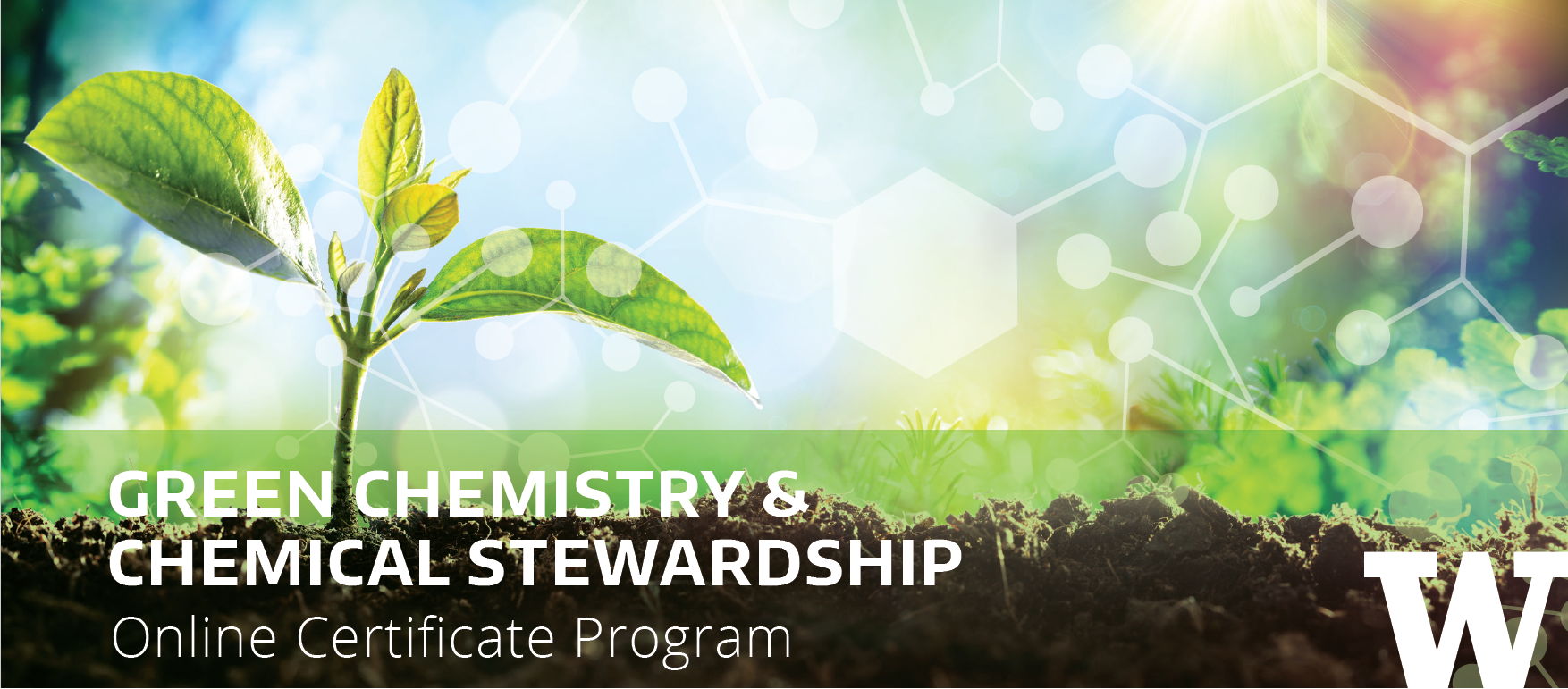 This certification program is endorsed by the Association for the Advancement of Alternatives Assessment. This course provides an overview of fundamental principles of toxicology, human health, and material science. Participants will review their own business' sustainability drivers and barriers while investigating the health and environmental hazards that contribute to human disease.


Visit for more information and/or to register.
October
2019
Inadvertently Produced PCBs in Inks and Pigments Workshop Partnerships for Innovation Solutions
October 8th - 9th, 2019 | Spokane, Washington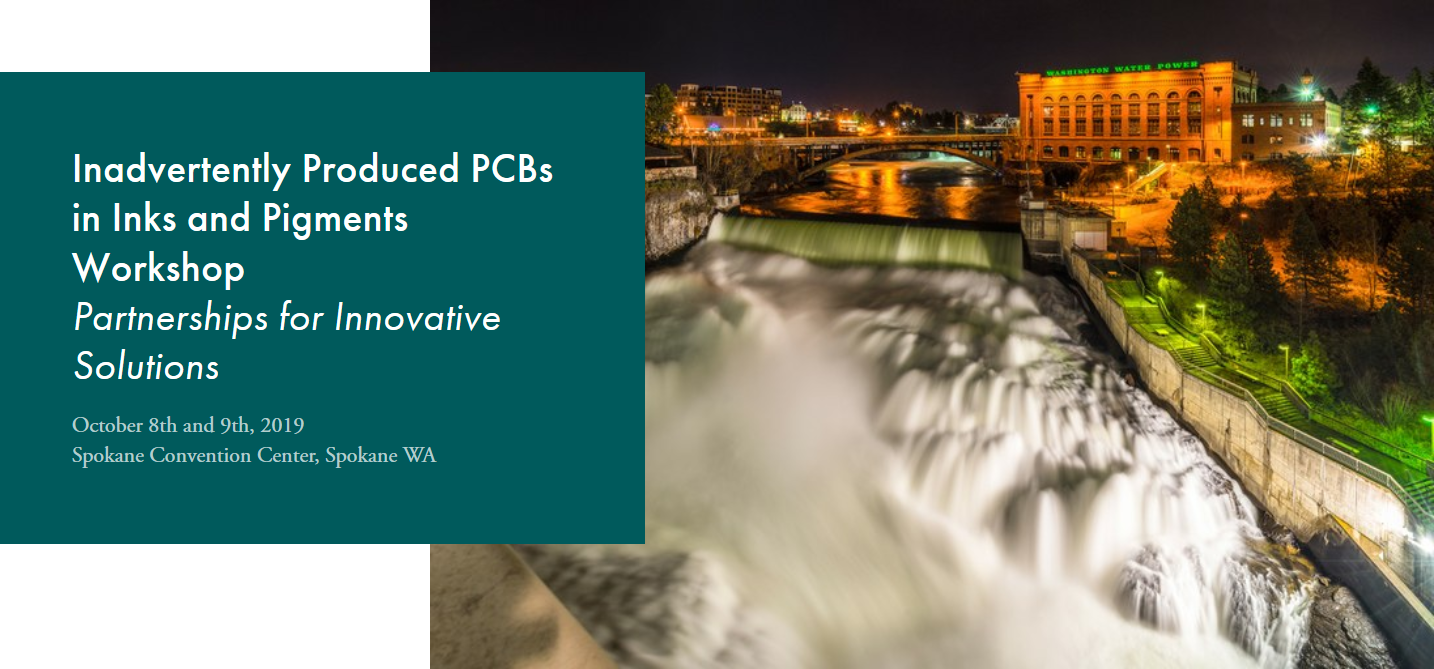 The Spokane River Regional Toxics Task Force (SRRTTF) is exploring actions to keep PCBs from entering the Spokane River. As part of this effort, the Task Force is co-hosting an informational workshop to address inadvertent PCBs in inks and pigments and the downstream products that are manufactured using those inks and pigments.
The workshop will convene leaders working collaboratively to explore innovative reduction strategies. Invited participants include: SRRTTF members, pigment and ink manufacturers, industries that utilize pigments and inks, downstream suppliers of paper and packaging, industry organizations, nongovernmental organizations, recyclers, procurement experts and regulators.
The workshop is being co-sponsored by the SRRTTF, the Washington State Department of Ecology, and Northwest Green Chemistry (NGC).
Visit for more information and/or to register.
October 28, 2019 | Online Webinar

The European Chemicals Agency is hosting an introductory webinar on GreenScreen, organized by A4 member, Shari Franjevic of Clean Production Action. This webinar introduces the GreenScreen methodology and tool for a European audience. You will hear examples of how companies and US authorities are using it to find safer alternatives to substances of concern.